Are you excited to get your hands on the best succulents in Houston, Texas? We bet you are, and we're here to help you find the best places to purchase succulents – whether you want to buy them online, in retail stores, or plant them yourself at an event. 
In this article, we will feature some of the most trusted succulent retail shops in the Houston, TX, area. Visit their websites or physical stores to see what succulent varieties they sell and other services they provide.
Host a Houston Succulent Event Like No Other!
Located in Houston, Texas, Succulent Bar has creative and unique options for you to include succulents into your events. 
Birthday Parties. Do you need some help planning another enjoyable birthday celebration? Let Succulent Bar host a refreshing succulent-themed birthday party for you and your loved ones any time of the year!
Graduation Parties. Celebrate academic milestones in life with unique succulent party decor! Whether you're hosting the party at home or at another venue, Succulent Bar can bring all the party favors of your choice. 
Vow Renewals, Weddings, and Anniversaries. Don't settle for just any party favors to celebrate a momentous event in your life. Let Succulent Bar create a fantastic display of succulents for party favors for your guests!
Bridal Showers, Bachelorette, and Engagement Parties. Whether you hold your bridal shower or engagement party at a country club, a fancy restaurant, or your backyard, you can never go wrong asking Succulent Bar to help you incorporate succulent activities into your event.
Corporate Events. Be a guest at your own event! Use succulents gorgeously and flexibly to complement the setup of your corporate event or holiday party, and have Succulent Bar handle all the preparations for you. 
Succulent Bar – Your One-Stop Shop for All Things Succulents!
Services Offered
Grab and Go. Want some ready-to-go custom succulent favors for your event in Houston, TX? Then try our Grab and Go services! We'll collaborate with you to design a distinctive succulent flavor that perfectly complements your occasion. Just schedule your pick-up time, and your succulent favors will be ready in no time!
Done For You. From preparation to cleanup, let our experienced and creative crew handle your event hosting for you. Whatever big plans you have for your event, including the decor, table setting, and succulent favors you prefer, our succulent expert can make them all happen to give your guests the best planting experience they'll never forget. 
Do It Yourself. This one's perfect for intimate gatherings and corporate events. All you have to do is order all the materials to assemble your own succulent bar set up at your event. We'll provide you with pots, succulents, soil, rocks, bags, and planting instructions so that you can run the show yourself. AND the best part about this package is that it can be mailed nationwide!
Learn more about our Houston Succulent Event Services!
Finding Succulents Locally in Houston, TX
1. The Cactus King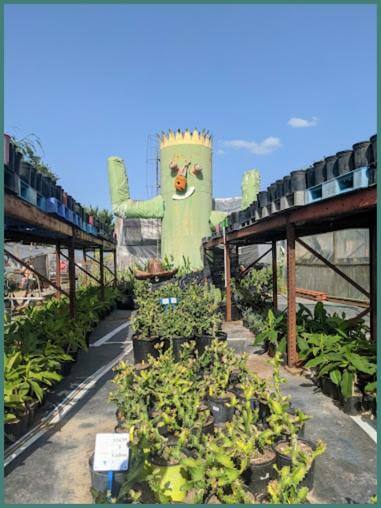 Photo by Doria Rosa
About the Shop
The Cactus King has the largest collection of cacti and succulent plants for sale! As a succulent farm and nursery, it proudly serves retail and wholesale clientele in Houston and throughout the United States except for Alaska, Hawaii, and Puerto Rico.
The shop owner, Mr. Lyn Rathburn, believes that the general public should also be offered access to succulent plants in the same way that private collectors, botanical gardens, museums, zoos, and landscapers do. They adore their plants and wish to share the happiness they provide with everyone. 
Customer Reviews and Ratings (3.6 Stars based on 28 Reviews)
As of the time of publishing this article the 2 most recent reviews rave about the quality of product and shopping experience. Beyond that, the reviews are scattered from 1-star complaints to 5-star positive experiences. Click here to read them all. 
Addresses and Contact Information
Website: https://thecactusking.com/
---
Physical Address (IN-PERSON VISITS):
7900 I-45N
Houston TX, 77037 (located directly next to the Tajj Inn)
Telephone Number
(281) 591-8833 or
Email Address
[email protected]
---
2. Joshua's Native Plants & Garden Antiques, Inc
Photo by Hunter Moliver
About the Shop
Joshua Kornegay, the store owner, is a native Houstonian with over 25 years of experience in the green industry. The shop specializes in plants indigenous to the Gulf Coast, which need no particular soils, fertilizers, or for that matter, any skill to grow. 
For 23 years, Joshua's Native Plants & Garden Antiques has provided cutting-edge garden art, traditional decor, one-of-a-kind worldwide imports, phenomenal pottery, modern fountains, and the easiest plants to grow in the South. With a vast selection of cacti and succulents and top-notch gardening advice and design from the owner, Joshua's is the go-to nursery for all your landscaping and gardening needs.
Other Product and Service Offerings
Garden Art Decor

Fountains and Pottery

Direct importer/creator of urns planters

Butterfly and hummingbirds attracting native plants
Customer Ratings and Reviews (4.5 average ratings based on 69 reviews)
Want to know what clients think of this store's services and product offerings? Check out their reviews and get helpful insights on previous customers' experiences with this shop. 
Addresses and Contact Information
Website: https://www.joshuasnativeplants.net/
---
Physical & Mailing Addresses:
502 W 18th St
Houston, Texas 77008
Store Hours:
Tues. – Sun. 9:00 – 5:00 Winter hours
Tues. – Sun 9:00-6:00 Spring, Summer, Fall hours
Telephone Number
(713) 862-7444
Email Address
[email protected]
---
3. Village Greenery & Flowers
Photo by Lynn C
About the Shop
Village Greenery & Flowers has been serving Houston since 1980. It prides itself as a family-owned and operated business, offering the finest floral arrangements and gifts for over 35 years. Whether it's for birthday celebrations, first communions, holidays, weddings, anniversaries, funerals, or memorials, this shop can cater to them all. 
Specialty Services
Plants

Tropicals

Weddings

Extensive gift line

Silk arrangements

European/Dish Gardens

Dried floral arrangements

Funeral and sympathy designs

Large inventory of fresh flowers

High-style custom floral arrangements

Contemporary and traditional custom arrangements
Store Hours
Village Greenery & Flowers is open from 7:00 a.m. to 7:00 p.m., Monday through Saturday, and they are closed on Sundays.
To help assure on-time delivery during busy holiday seasons, place your order at least one day before major holidays, including: Thanksgiving Day, Christmas Day, New Year's Day, Valentine's Day, Easter, Administrative Professionals Week, Mother's Day, Memorial Day, Father's Day, Independence Day and Labor Day.
Village Greenery & Flowers is closed on Thanksgiving Day, Christmas Day, New Year's Day, Easter, Memorial Day, Father's Day, Independence Day, and Labor Day.
Customer Reviews (3.0 average rating based on 42 reviews)
If you want to know what clients think of this store's services and product offerings, check out their reviews and get helpful insights on previous customers' experiences with this shop. 
Addresses and Contact Information
Website: https://www.villagegreeneryflowers.com/
---
Physical Address
2323 University Blvd
Houston, TX 77005
Telephone Number
(713) 529-4161
---
Purchase Succulents Online
With succulent lovers growing in numbers, online succulent stores are also expanding! So, whether you live in the Arctic, the Pacific, or any other continent, as long as you have internet access, you can get your lovely succulent plants in no time.
Whether you're local to the Houston area or are looking for the best plant mail available, here are some of the best online stores to purchase succulents.
When it comes to online stores with services beyond mere succulent plant planting, Succulent Bar isn't one to be missed. We serve our customers with all things parties and plants, including thoughtful and on-trend succulent gift boxes, planting experience supplies, unique novelty gifts, and custom succulent favors and arrangements.
Bloomscape, a plant retail startup based in Detroit, is an online store where you can buy various plants and have them shipped to you. From cacti and succulents to pet-friendly plants and low-light house plants, Bloomscape has it all. They even have care tools, complete with pots, decor, accessories, and all supplies you need to keep your succulents growing healthy and beautiful.
If you're an advocate of sustainable living, you'll be pleased to know that Lively Root only sells eco-friendly products. Their plants are grown from seedlings and shipped fresh from their nursery to your door. You can buy them flowering plants, plant bundles, Halloween plants, pet-friendly plants, and plants as gifts.
We hope you find this article helpful. Have fun growing your beautiful succulents!