Dimly lit space accented with soft colors, walls and ceilings adorned with lush green plants hanging on baskets, and floral succulent centerpieces placed on banquet tables – these are some of the most exquisite succulent party decorations you wouldn't want to miss out on experiencing.
While the most common decorations for parties are balloons, streamers, bubbles, and confetti, wouldn't it also be great to have something your guests would never have anticipated seeing when they arrive at your venue?
So instead of spending too much money on decorations thrown away after a single use, why not hop on the bandwagon of using succulent party decorations? Even after the party, they can be kept at home and can even be given as party favors!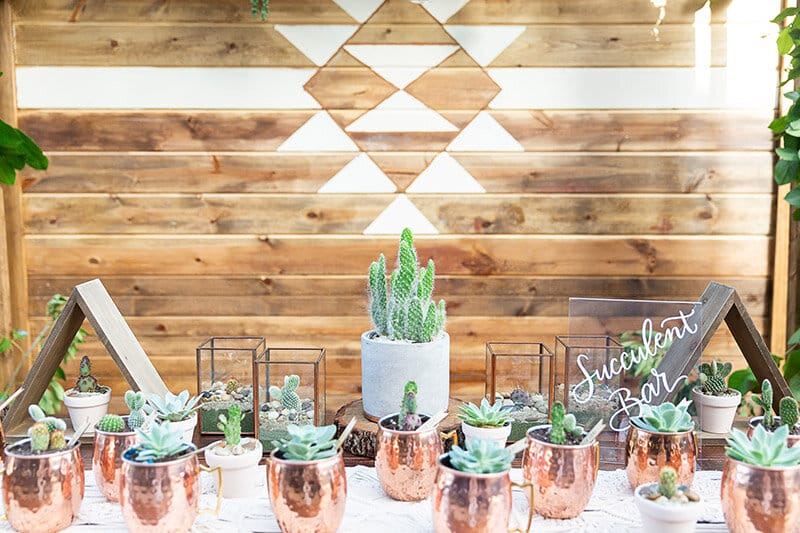 What Are Succulents?
Succulents are a type of plant that has water stored in its leaves. The leaves are all thick and fleshy, while some groups and species have thicker leaves than others. Succulents prefer dry environments and do not tolerate humidity levels. Succulents appear to have surpassed several other indoor plants as the kings of the indoor jungle world.
What makes them so popular is that they are attractive even without flowers, and they only require little maintenance. So, why not use them as decorations for a party? But do they make good party decorations? Let's find out in the next section!
Can We Use Succulents for Party Decorations?
Event decoration is all the small details that can transform an otherwise mundane occasion or gathering into a grand celebration. It is the most crucial factor in setting the tone and expressing the spirit you want for your event, whether casual or formal. This will also help get everyone in the right mood and create a warm and welcoming atmosphere.
Lighting, food, and photo booth entertainment are other excellent ways to brighten the mood and impress your guests. It might surprise you, but succulents also make great party decorations, even better than balloons and confetti. 
Whether you pair them up with other elements to make it more interesting, including porcelain and wooden planters, buckets, and glass terrariums, or not, succulents are great to use because they are so adorable and versatile to complement any arrangement.

Creative Ideas and Tips for Decorating with Succulents
Hanging Decorations
Hanging balloons and fancy streamers are the typical ways to decorate a party, but how about hanging succulents? Not only do succulents add lushness to your home's interior, but they also add flair to party decorations.
Here are a few ideas for using succulents as aerial decorations:
1. Porch Jungle
With a cage full of flowing plants, you can give your porch or pergola the lush hues of a tropical rainforest, perfect for summer evening get-togethers or weekend barbecue nights. To achieve this look, use an old metal birdcage as your vessel. Also, clumps of preserved moss that act as a binding agent for the succulents should be in the bottom of the cage.

2. Leafy Bubbles
These mini glass domes will add a unique, eye-catching adornment to your urban home. Start with hanging glass terrariums of various sizes that resemble sparkling bubbles to create this succulent display. Choose little imitation succulent blossoms to secure in each orb of glass pebbles filled with sand. Cut them to the appropriate size. Finally, hang these glass globes by stringing them on a thread with varying lengths to give them a floating aspect.

You can find more of these decorative succulent plant sets on Amazon. 
Table Decorations
Succulents also make great table decorations for dinner parties and formal events. The table decorations have two primary purposes: succulent centerpieces and succulent party favors. Here's how succulent pieces can bring festive elegance to your event's ambiance. 
SUCCULENT CENTERPIECES
1. Sprawling Pots
The secret is to grow all succulents in containers that are the same style or color. The terracotta pots are more neutral and work beautifully for any event.
2. Table Runner
Here is an example of strewn pots in a different arrangement. The succulents here are used as a centerpiece and displayed in glass jars of various sizes.

In this table runner, succulent cuttings are layered with either moss or eucalyptus branches. Something very unique to succulents is that even when their root systems are cut off, they can grow a new one in its place.  They are in a very vulnerable state without their root system in place, however they do have the ability to grow a new one which in itself is super fascinating!
Combine driftwood, air plants, moss, and succulents to form a long runner. In this situation, the succulent roots are tucked under the piece of driftwood or hidden by the moss.
3. One Central Centerpiece
Whether it's an old wood box or a tin, vintage boxes are popular. The brass and glass terrariums are very adaptable because they can be used again and installed in a person's home with ease!
4. Succulents For All Seasons
There are many reasons to use succulents on your table other than spring, summer, and wedding seasons. Check out this Pinterest board for more information about table succulent arrangements.
SUCCULENT FAVORS AND PLACECARDS
1. Paper Wrapped
How cute are these brown paper-wrapped succulent placecards? They also make lovely party favors! Round paper succulent planters are easier to make since most succulents come in plastic pots of the same shape.
2. Paint-Dipped Mini Terracotta Pots
Among the best plant containers are terracotta pots since they allow the soil to breathe, which is why we love them in the first place. There is something really enticing about these bright-colored tiny pots.
3. Distressed Mini Terracotta Pots
The rich orange tone of terracotta pots can clash with more rustic table designs. That's why these distressed mini terracotta pots are perfect for rustic themed events and bring the entire design together. 
4. Mini Glass Jars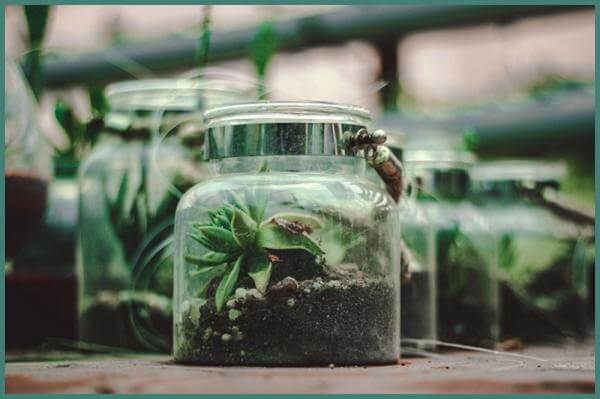 A single glass jar with a lonely succulent may not be the ideal home decoration since it looks like it is full of dirt. But the composition becomes more elegant and natural when adding decorative draining rocks or moss. Turn into a placecard by writing a name or a message in the jar and tie twine over the rim.
5. Mini Glass Terrarium
These are lovely and refined options for party favors and placecards. Depending on the container, they might be more expensive than others, especially if made from glass and brass!
6. Mini Mason Jars
You have two options for the little mason jar placecards: use the smallest size and leave it unpainted or paint the mason jars to give them a more vintage farmhouse vibe. If you choose to do this, add some moss and ornamental pebbles (as per the mini glass jars described above). The appearance of dirt will be less noticeable in a textured container.
7.  Tins
Because different colored tins are readily available, these favors are among the most popular. Depending on the event, you can choose between plain metal containers and colored containers.
8. Tea Cups
Teacups filled with succulents have a charming, vintage appearance. Vintage tea cups are simple to find at flea markets and thrift shops.
You can place your succulent pot inside the teacup for tea at the party, or you can plant your succulent directly into the teacup (be sure to add drainage rocks to the bottom of the cup to prevent the roots from rotting and moss to the top to hide the dirt!). Also, make sure the succulent is in a pretty container that complements the teacups you'll be using.
9. Burlap Wrap
There are various methods to use burlap to wrap your succulent favors. The easiest involves encircling the succulent pot with a loose burlap and tying it off with a short piece of twine. Despite being a relatively straightforward and economical method, the result is pretty lovely.
10. Seasonal
Succulents can be used as table decor throughout the year, regardless of season or occasion. This picture shows an example of succulent arrangements for Christmas, especially for place settings and party favors.
Cake Decorations: 6 Succulent Cake Ideas For Different Occasions
We're used to toppings shaped like petals and bouquets, and how long has this been going on? But now you can break from the traditional – go for a succulent decorated cake! They are far more delightful than any flower-decorated cake you can imagine.
1. Cake with Succulent Toppings
Naked cakes are famous for various reasons, including their rustic beauty, ability to withstand summer heat, and, most importantly, ease of decoration. This simple edible work of art is created by starting with a plain cake and adding a variety of your favorite succulent cake designs.
2. Buttercream Wreath
Yes, that succulent wreath was beautiful in its colors, but you never thought about putting it close to your mouth, did you? As you can see, the mixture of succulent vegetation appeals to both the eyes and the taste buds! The flowers serve to enhance how appetizing and fashionable it already is.
3. Candy Succulent Cake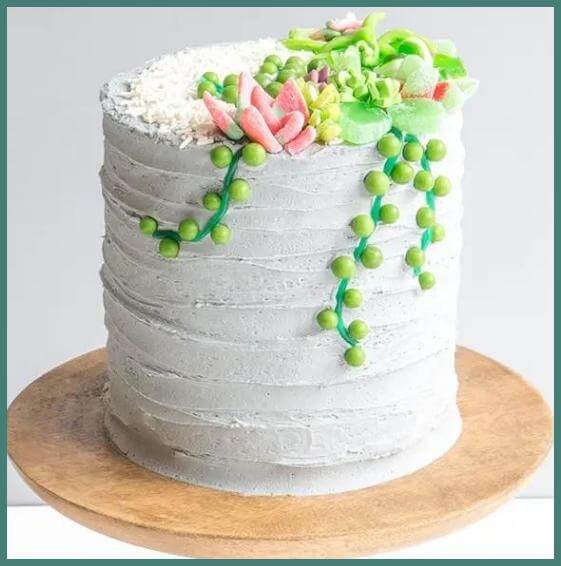 Try a succulent plant cake topper or create your own using sugared candy. This succulent cake decoration is guaranteed to impress your guests!
4. A Cupcake With a Succulent Twist
Use colored icing to decorate mini cupcakes using succulent designs.
5. Succulent Garden
What do you think of this cactus and succulent combination? There is no doubt that this is a delicious-looking garden; receiving it on your birthday will make you feel like you're in heaven. 
6. Trailers Being Trailers
Trailing succulents let their branches hang freely, even on cakes. The combination of the cake, the flower, and the luscious toppings is just superb!
What Are You Waiting For? Start Coordinating Your Succulent Party Decorations Now!
We all enjoy a nice party,  but no party can ever be memorable if you keep doing the same decorations repeatedly. And although decorations can be classy and appealing, it could take a bad turn and appear simply unpleasant if not done with care. 
Make unique decorations for any event using your passion for succulent plants. With their varied textures and sizes, succulents are a fun way to decorate and are great for developing your green thumb. Whatever the occasion is, you'll never go wrong with succulent party decorations!
Looking for more brilliant ideas to achieve that perfect look for your party? Visit The Succulent Bar for the best custom favors, centerpieces, and happy birthday succulent gift boxes you never want to miss!