Seeing a memorable holiday on the calendar always feels exciting, and for a good reason! The holiday season isn't only for us to take a breather from the monotony of our daily life- it's also an excellent opportunity to get together with friends and family. 
A display of holiday lights, taking a romantic walk with your partner, and decorating your house are all excellent reasons to get excited about the holidays. However, the holidays also come with drawbacks. 
It's easy to become overwhelmed during the holiday season, from family activities to selecting clothes for different occasions and shopping. And when you add the kids into the mix, you will surely need all the help you can get.
Want to know the best way to eliminate stress this holiday season? Plan ahead for your holiday activities! So let your creativity guide your holiday plans this year and make your holiday season stress-free.
Hosting a succulent event, either in-person or virtually, is the perfect way to gather your coworkers, friends, or family members this holiday season. We've put together a list of exciting (and affordable!) holiday activity ideas that can complement our succulent and terrarium services and make your event even merrier!
1. Incorporate the Element of Gratitude by Hosting a Succulent Planting Party.
As the holidays approach, many employees are particularly excited about the opportunities and positive feelings they bring, making it a great time to be grateful, kind, and generous. 
So if you plan on hosting events like appreciation parties and open houses, why not infuse gratitude into your event planning? Your guests will enjoy a succulent planting workshop kit that can be filled with additional items such as "Thank you" and "Grateful" candles and other fun goodies such as candies, notepads, spa products, ornaments, and more. These succulent planting events can boost employee productivity, tenant loyalty, and client spending while creating stronger community bonds.
2. Create Holiday Centerpieces
As much of the holiday season focuses on festive treats and mixed cocktails, you should also pay attention to what's on your tabletop. Elevate your holiday tablescape with elegant place settings, sparkling glassware, and beautifully-arranged centerpieces.
While floral centerpieces are the traditional choice for the holidays, you'd be surprised that succulent centerpieces are just as beautiful! There are no limits to how fancy or simple they can be, and they're effortless to make. 
And our guess is – you didn't even think about these ways to use succulents for holidays:
Halloween-themed Terrarium or Halloween Ghost Pots

Fall-themed Terrarium or Mason Jar

Arrangements

Winter Wonderland terrarium or Winter-themed Planters
So wow your friends and family who come to your Christmas Party or Halloween Party by adding a showstopping virtual succulent planting class!
3. Holiday PJ party
You can't go wrong with a  holiday PJ party because the whole point is to relax and get cozy. To top it all off, everyone gets to wear their favorite pajamas. So feel free to bust out any silly, themed pajamas you may have stashed in your closet. With minimal effort, you'll have the happiest gathering of folks around!
Here's how you make an exciting turn in your holiday PJ party: 
Invite all your friends through texts, e-mail, or social media.   

Ask your guests to wear their favorite pajamas so you can vote on the best one.    

Have fun playing games like snap, charades, and drinking games (if you're of legal age).
Your guests will surely love this free-for-all party with unlimited room for silliness.
4. Pair your workshop with a holiday-themed cocktail.
Are you ready to unleash your creative side? A holiday-themed succulent terrarium workshop is perfect for getting started, especially if you're looking for something out of the conventional gathering. You can also enjoy flavorful cocktails made with premium fresh ingredients from Cocktail Courier as you prepare to plant succulents with your friends. With a combination of succulent planting and the best cocktail drinks, your event will be truly one of a kind. 
5. Holiday wellness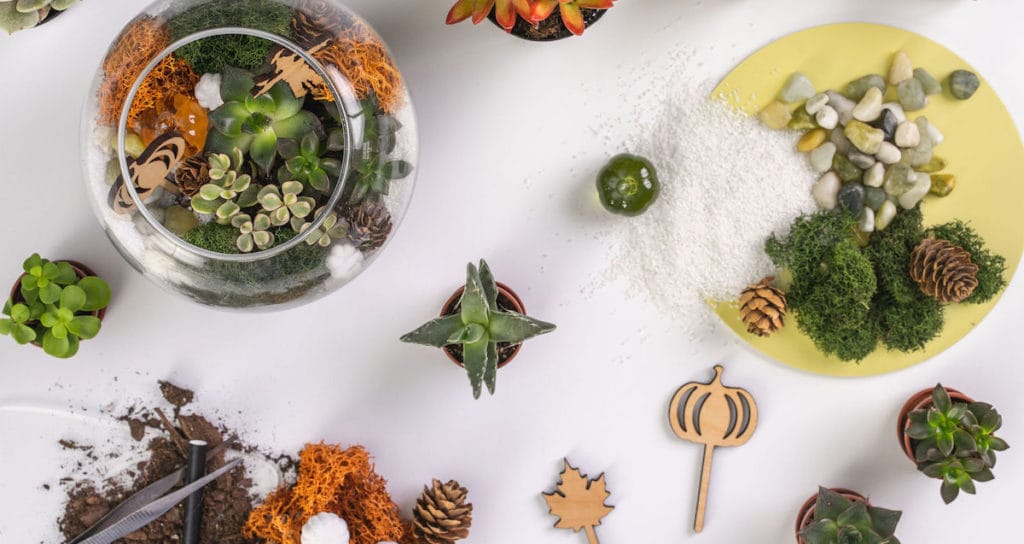 Consider a little green thumb restoration for a stress-relieving activity this holiday season. Planting flowers and vegetables is scientifically proven to help balance hormones, relieve stress, reduce inflammation and boost immunity. Soothing your mind and body through planting also decreases stress, providing peace of mind and helping the environment simultaneously! So while you're celebrating with food and friends, grab a bucket and shovel and dig in – gardeners have the happiest hearts!
6. Send a sweet or savory treat.
This holiday season, you may be hosting or attending more parties than usual, and the one constant among these events is the incredible food – or, should we say, the sweets!
From homemade food gifts like chocolate chip holiday cookies, hearty winter soups, or shared holiday brunches, you can send tons of sweet and savory treats straight to your loved ones' doorsteps. And, of course, don't forget to include the perfect appetizer for the holiday parties – charcuterie boards- in your food gift box!
Charcuterie boards are fantastic centerpieces for all your parties. To create an enticing one, combine the right ingredients—some salty, some sweet, some crunchy, some creamy—and you've got a winning combination.
7. Bring a family member along to a corporate event.
We all know the holiday season is about giving love to our friends and family in different expressions. And so, if you're planning a corporate event during the holidays, why not let everyone bring a family member along?
Engage your staff in succulent planting activities and show them that they are more than just employees! Whether your employees are in their 30s, 40s, 50s, or beyond, succulent-themed holiday events are always a hit. 
At Succulent Bar, we pride ourselves on being family-friendly, so we can accommodate you no matter how large or small your group is.
8. Fun Trivia Night
Get people out of their seats, interact with their colleagues, and engage in an exciting competition with a Christmas-themed Trivia night!
The Christmas Trivia cards will get your guests in the season's spirit and make great conversation starters. They can be a part of an icebreaker game or open up any event, from a large office party to a small holiday gathering with friends.
You can ask questions, and teams can compete in a friendly way. You can also ask about holidays, fun topics, pop culture, or current events. Prepare a series of questions about movies, books, and pop culture. It'll keep you entertained while you learn more about one another!
9. Drinking Game
Do you and your friends enjoy playing drinking games together? Are you out of good drinking games to play? Fortunately for you and your friends, there are plenty of easy and innovative drinking games that you can play to keep your parties fresh and eventful.
The "word game" is one of the easiest games you should try. Simply choose some words, and everyone must take a sip of their drink whenever someone says one. So, for example, if you choose the words' succulent,' 'dirt,' 'holiday,' 'party,' or 'shovel,' and someone in the group says one of them, be ready to grab your drinks.
10. Play Holiday music in the background.
While you do all these holiday activities mentioned above, don't forget to turn on some music. 
Holiday music and games are the perfect way to get everyone involved. First, list all the activities you want to do, and then choose some appropriate holiday tunes to play during each activity. 
For instance, listen to Christmas carols while decorating your tree, play silly games like "Elf on the Shelf" with holiday music playing in the background, or select some Halloween classics like "Monster Mash" while decorating pumpkins.
Which Holiday Activity Idea Will You Try This Year?
Enjoy some laughter and giggles with family and friends over the holidays by hosting festive events full of holiday-themed activities. These fun and out-of-the-ordinary activities will surely lift everyone's spirits!
Looking for some exciting holiday party activities for your group? Contact us today to plan an exciting succulent planting experience!