As October draws near, many organizations are looking for fresh, engaging ways to bring their teams together and foster collaboration, all while embracing the festive spirit of Halloween. If you are one of them, you're in luck! 
Whether you're coordinating with a team working on-site, managing a remote workforce, or juggling a bit of both, we have suggestions to help you make this Halloween one to remember –– from thrilling pumpkin carving competitions to relaxing holiday-themed succulent planting workshops courtesy of the Succulent Bar. 
So, let's dive in and unmask these fantastic Halloween team-building activities!
The Importance of In-Person or Virtual Halloween Ideas in a Workplace
Team building activities in Dallas, TX, are more than just a fun diversion from the usual work routine. In fact, they play a crucial role in your work environment, as they bring the following benefits:
Boost Morale and Motivation
Team building activities provide a unique setting where employees can have fun, relax, and recharge their batteries. This can be especially important during stressful periods or heavy workloads.
Enhance Collaboration and Teamwork
These activities often involve tasks that can only be accomplished through teamwork, reinforcing that "we're all in this together."
By working together towards a common goal, employees learn to communicate more effectively, which can greatly improve collaboration back in the office.
Increase Productivity
Team building activities often involve creative tasks, inspiring employees to think outside the box. This can foster a culture of creativity and innovation within the team. 
Furthermore, many team-building activities involve tasks that require teams to strategize and solve problems together, which can help enhance their problem-solving skills and boost morale.
In-Person Halloween Team Building Ideas
Whether your team is large or small, these Halloween-themed activities add fun and spookiness to your workplace while also encouraging teamwork and collaboration:
Succulent Planting Workshops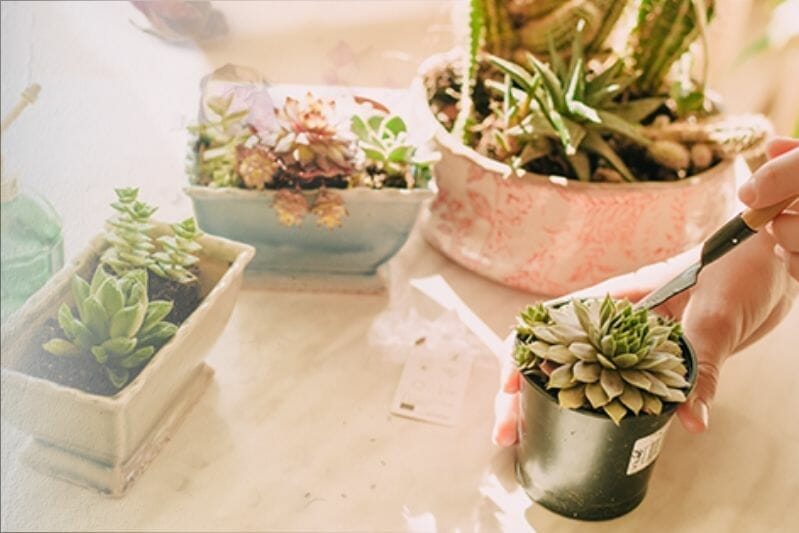 Succulent Bar offers an extraordinary team-building opportunity with their Succulent Planting Workshops. These workshops unite the team in a serene environment to engage in a delightful, stress-relieving activity. Coupled with the spirit of Halloween, these workshops present a unique avenue for employees to unleash their creativity and foster collaboration.
While planting succulents might appear as a simple, peaceful task, it promotes teamwork subtly yet effectively. 
For instance, team members need to cooperate, share tools, and help each other as they design and execute their plant arrangements. 
The quiet concentration and shared sense of accomplishment can build trust and strengthen relationships among your team, making it an effective team-building exercise.
What to Expect at a Succulent Planting Workshop
During these workshops, each team member receives a succulent planting kit. 
A knowledgeable Succulent Bar Specialist guides the group through the process, teaching everyone the tips and tricks to plant and care for their succulents. 
To add a Halloween twist, you could encourage team members to create spooky-themed succulent arrangements or decorate their plant pots with Halloween motifs.
Pumpkin Carving Competition
Carving a pumpkin requires attention to detail, patience, and a steady hand. It challenges individuals to think creatively, strategize, and meticulously bring their design ideas to life. 
When performed in teams, members must share ideas, make collective decisions, and work cohesively to carve the best pumpkin. 
Moreover, the spirit of friendly competition can energize the workplace atmosphere as teams strive to outdo each other with their pumpkin masterpieces. It could even become a highlight of your office's Halloween celebrations, a tradition that employees look forward to every year.
Tips for a Successful Pumpkin Carving Competition
A pumpkin carving competition is a perfect avenue for employees to let their imaginations run wild, showcasing their artistic skills in a light-hearted environment. 
The beauty of this activity lies in its simplicity: all you need are pumpkins, a pinch of creativity, and these tips:
Set Clear Guidelines:

Make sure everyone understands the rules of the competition to ensure it's fair and fun.

Provide Necessary Tools and Materials:

Provide carving tools and pumpkins to each team. You could also provide templates for those who might need them.

Safety First:

Remind everyone to be careful while handling carving tools.
Halloween Costume Contest
A Halloween costume contest is an event where employees can express their creativity, humor, and problem-solving skills as they compete to create the most remarkable costumes.
This contest offers a platform for team members to reveal aspects of their personality that might not usually shine through in everyday work situations. It's a chance for them to have a good laugh together, bond over shared ideas, and appreciate each other's creative efforts.
Organizing a Halloween Costume Contest
Set Clear Categories:

To accommodate the varied tastes and talents within your team, consider having multiple categories for the contest, such as "most creative," "scariest," "best team costume," or even "best DIY costume." This way, there's something for everyone, allowing for a wider range of ideas and interpretations.

Communicate the Rules:

Rules for the contest should be communicated clearly and well in advance. This includes details about judging criteria, any guidelines for appropriate attire, and a timeline for the event. Ensure the guidelines encourage a respectful and inclusive environment so everyone feels comfortable participating.

Encourage Participation:

While the contest can highlight your Halloween celebrations, remember that not everyone might feel comfortable participating. Make sure the event is promoted as a fun and voluntary activity. Nevertheless, those who choose not to dress up can be involved in other ways, like being part of the judging panel or cheering on their colleagues.
Halloween-themed Office Scavenger Hunt
With a Halloween theme, the scavenger hunt can take a spookier, more exciting turn. For example, clues could revolve around Halloween trivia, hidden spooky decorations, or mini-challenges that require teams to perform scary skits. 
Creating a Thrilling Halloween Scavenger Hunt
Creating a captivating Halloween scavenger hunt requires some creativity and planning. Here are a few ideas to get you started:
Themed Clues:

Design clues that play into the Halloween theme. For example, "Find where the office ghost takes a break" could refer to an eerily decorated break room.

Spooky Locations:

Add a Halloween touch to certain locations in your office. These can serve as pit stops for the teams. For instance, a cobweb-laden corner could be the next location for a clue or multiple rooms can turn into mini haunted houses.

Halloween Trivia:

Incorporate trivia questions related to Halloween into your clues. This can test your team's knowledge about the holiday while adding an educational aspect to the game.

Costume Clues:

If your office celebrates Halloween parties with costumes, you could involve these in your scavenger hunt. A clue might require teams to find a colleague dressed as a specific character.
Virtual Halloween Team Building Activities
In today's era of remote work, maintaining a strong team spirit can be challenging. 
Thanks to innovative solutions and a little creativity, the following virtual team-building activities allow you and your remote team to have some Halloween fun:
Succulent Virtual Event
​​Like their in-office counterpart, Succulent Bar's Virtual Events offer an immersive, calming experience that promotes creativity and collaboration and adds a touch of Halloween spirit. 
How to Join a Succulent Virtual Event
Participating in a Succulent Virtual Event is straightforward. Upon booking the event, each participant will receive a succulent kit delivered to their home. 
The kit includes everything necessary for the activity –– from the succulent itself to the planting materials. 
On the day of the event, participants join a video conference where they will be guided by a Succulent Bar Specialist through the planting process, allowing everyone to participate together from the comfort of their homes.
Virtual Halloween Trivia
A virtual Halloween trivia event can test your team's knowledge about Halloween history, customs, and pop culture, all while enhancing teamwork and boosting engagement.
Coming Up with Engaging Halloween Trivia Questions
Creating engaging Halloween-themed trivia questions requires a blend of creativity and research. 
Mix in questions about Halloween history, mythology, popular culture (e.g., horror movies, books), and global Halloween customs. 
Having a variety of categories can make the trivia more inclusive and exciting for all participants.
Online Halloween Costume Contest
Even when conducted virtually, a Halloween costume contest provides an excellent platform for individuals to express their creativity and have a good laugh together.
Hosting a virtual costume contest is quite similar to an in-person one. Ensure that everyone is aware of the rules and categories (like "most creative," "scariest," etc.) and that participation is encouraged but not mandatory. On the day of the contest, hold a video call where everyone can showcase their costumes and then have the team vote on the winners.
Virtual Escape Room
Virtual escape rooms offer the thrilling challenge of problem-solving and teamwork in a completely digital environment, and many companies have taken the concept a step further by incorporating seasonal themes, including Halloween. 
Here are a few virtual Halloween-themed escape rooms that come highly recommended:
Remember, while engaging in these escape rooms, maintaining open communication, fostering collaboration, and encouraging each other are keys to a successful and fun experience.
Petal Bar Packages for Extra Halloween Flair
Halloween team building activities are about more than just games and costumes – they're also an opportunity to create a festive, seasonal atmosphere that elevates the entire experience. 
This is where Petal Bar Packages come into play.
Elevate Your Halloween Event with Petal Bar Packages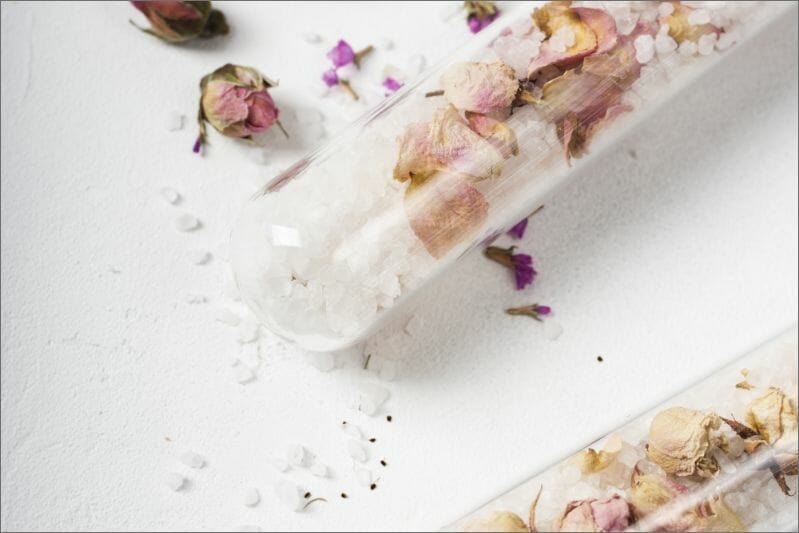 Petal Bar, the feminine sister company of Succulent Bar, offers luxurious dried floral arrangements through their unique Petal Bar Packages. These elegant, long-lasting dried floral pieces can add a touch of class to any Halloween event, blending the festive fun of Halloween with a sophisticated aesthetic.
These Petal Bar Packages can be customized to fit your Halloween theme, whether aiming for a spooky ambiance, a chic haunted mansion vibe, or anything in between. Dried florals offer a unique twist to traditional Halloween decorations, and can be used in various ways to enhance your team-building event.
Incorporating Petal Bar Packages into Your Halloween Event
There are countless ways to utilize Petal Bar Packages to add Halloween flair to your event. Here are a few ideas:
Centerpieces:

Use

dried floral arrangements

as centerpieces for your event tables. You can go for arrangements with a darker, Halloween-appropriate color scheme or choose more vibrant arrangements for a contrast that pops.

Decorative Accents:

Use smaller accents, place some halloween candy around your event space, on side tables, or in the bathroom. Every detail counts when creating a festive atmosphere.

Workshop Materials:

Petal Bar Packages can provide all the materials you will need if you are hosting a flower arranging workshop as part of your team-building activities.

Gifts and Prizes:

Dried floral arrangements also make great gifts or prizes for your Halloween contests. They can be given as a token of appreciation to all participants or as a special prize for contest winners.
Final Words
As you buy decorations and Halloween themed ornaments, don't forget about those who go the extra mile to celebrate Halloween with their workmates or remote teams. Consider showing appreciation for their effort and creativity with a unique, handcrafted Succulent Box. These boxes can be a token of gratitude and recognition for their hard work and contribution to the team. 
With that said, don't just scare away the ghouls this spooky season, banish workplace monotony too! Turn your team-building activities and resident events into a spooktacular celebration and reap the rewards of a more cohesive, collaborative, and engaged team.
Happy haunting and enjoy your Halloween party!