If your team is ready for an adventure, look no further than these team building activities in Dallas, Texas. This exciting city has a plethora of activities and events perfect for inspiring teamwork and boosting morale.
Keep in mind that team building is not always about fun and games. 
An excellent team-building activity will let employees forget about work, get to know each other better, share some laughter, and form relationships based on mutual respect.
From expressing your creativity and indulging in delicious food to exciting escapades, the city of Dallas will surely leave your team with fond memories and closer bonds.
Types of Corporate Team Building Activities in Dallas, TX
Dallas, one of the most populated cities in Texas, is situated near the state capital and the beautiful Texas Hill Country. Because of its location, you can easily find many types of team-building activities in and around the city. Some of our favorites are:
Creative and Relaxing Activities:

When people tap into their creativity, they often find themselves lost in the moment and free from negative thoughts.


Also, conducting relaxing activities will allow your team to break free from their routine; they become immersed in creativity, which is like a needed break from normal thought processes.
Cooking Classes:

Working together in the kitchen helps employees grow essential social skills.


For example, they must learn patience as different teams work on various aspects of the dish and cannot move forward until the previous group is finished.
Additionally, co-workers must help each other fix any mistakes, as one person's error can ruin an otherwise perfect meal.
In-Person Activities: In-person team-building events allow people to step out of their comfort zone and see their colleagues differently.
They also challenge individuals to use abilities they might not usually utilize and let them grow skills like risk management while simultaneously boosting morale for everyone involved.
Virtual Team-Building Options: While in-person team-building activities are preferred, virtual team-building events can still be beneficial.


A

study

claims that employees participating in virtual team-building activities produce 41% less absenteeism and 21% higher profitability. Also, this event is advantageous for teams in multiple locations or working from home. 
Our Favorite Team Building Activities in Dallas
If you're looking for the best team-building activities in Dallas, look no further! We've compiled a list of corporate team-building ideas that will surely be a hit with your employees. 
Check it out now!
1. Succulent Planting Workshop
A succulent planting workshop is the perfect team-building activity for employees who want to work together and communicate more effectively. This easy, fun activity can be done indoors or outdoors, making it a great option for any season.
Succulent Bar is the ideal place to learn about succulents and how to take care of them. 
With both in-person and virtual planting workshops, it's easy for groups to participate while still Socializing. An experienced specialist from Succulent Bar will guide your group through the workshop and answer any questions you may have. 
By the end of the session, you'll be a pro at creating beautiful succulent arrangements that are sure to stay healthy and vibrant!
If you're interested in succulent planting and design, visit Succulent Bar's contact page to sign up for a workshop!
2. Dried Floral Arranging Workshop
Flowers have mood-boosting and stress-relieving abilities, which is one of the many reasons why a dried floral arranging workshop makes for a great team-building activity. 
Dried flowers are not only beautiful, but they also last significantly longer than fresh flowers. This feature makes them perfect for a team-building activity because participants can look back on the fun day they had long after the event had ended.
Best Dried Floral Arranging Workshop:
Petal Bar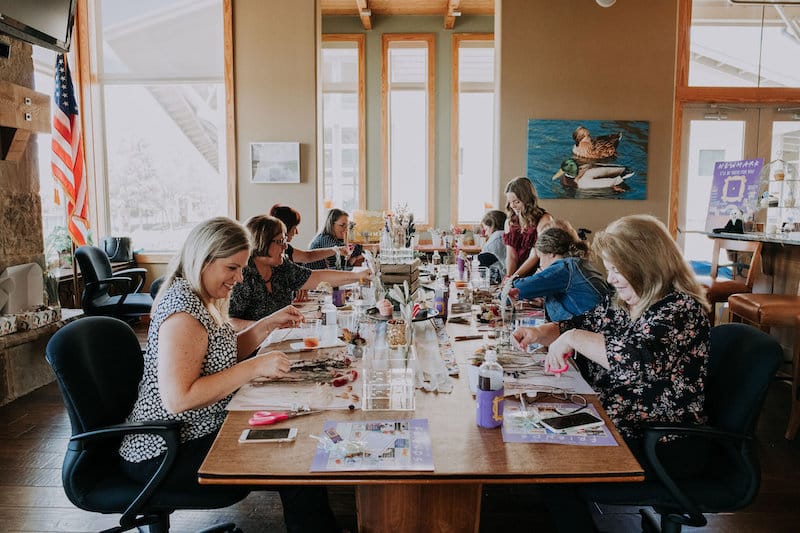 In addition to a succulent planting workshop, Succulent Bar also offers dried floral arranging workshops. Their expert staff will help your group create beautiful dried flower arrangements perfect for any season, and the activity is available in-person or virtually, like their succulent planting workshop.
If you're interested in booking a dried floral arranging workshop, visit Succulent Bar's contact page!
3. Art Walk
An art walk is a great team-building activity because it allows employees to wander through galleries and museums, taking in the beauty of the artwork on display. 
This activity is perfect for people who want to learn more about their colleagues and get to know them better.
Additionally, art walks are excellent for problem-solving. For instance, finding a specific painting in a large museum requires communication and teamwork. 
Thus, an art walk encourages communication and collaboration, two essential skills for any team.

Location:
Canton at Trunk – W – FS, Dallas, TX 75226
The Deep Ellum entertainment district is a top-rated destination for artists and art lovers from all corners of the world. It's bursting with energy and culture, and it's home to numerous artists, muralists, and other creative types who explore different themes in their work, such as:
Adrian Torres

Jorge Gutierrez

Lesli Marshall
After checking out the fantastic murals in Dallas, you and your co-workers will likely see the city and yourselves from entirely new perspectives.
4. Sign Up For A Cooking Class
If you're looking for a team-building activity that encourages collaboration and communication, look no further than a cooking class. 
By working together to create dishes from scratch, participants learn how to compromise and problem-solve with their peers. 
Plus, it's an enjoyable way to spend an afternoon or evening!
Our Pick: The Cookery

Location:
1130 Dragon St #180, Dallas, TX
The Cookery offers a full calendar of cooking classes every month that area residents and tourists register. 
Additionally, The Cookery hosts private events where your team can learn to make dishes from the Mediterranean, Barcelona, Tuscany, and other cities and regions known for their tasty fare.
If cooking isn't your group's jam, you can schedule a cocktail party instead.
5. Book An Escape Room
Escape rooms are perfect for team building because they encourage participants to work together to find clues, solve puzzles, and escape the room. 
This activity is great for teams that need to learn how to think outside the box and develop creative solutions. Plus, you get to have a lot of fun in the process!
Our Pick: The Escape Game Dallas
Location:
3000 Grapevine Mills Pkwy Suite 604, Grapevine, TX 76051
5752 Grandscape Blvd suite 175, The Colony, TX 75056
If you're looking for a fun and unique team-building activity, look no further than The Escape Game Dallas! 
Your team will solve riddles and interpret clues to find a way out of one of their themed escape rooms, all in just 60 minutes. 
Everyone can join in on the fun, whether you have a small or large group!
6. A Ropes Course
Ropes courses are a great way to build trust and cooperation among team members. These activities require participants to work together to complete tasks such as balancing on logs or plunging onto cargo nets. This activity is perfect for teams who want to mentally and physically challenge themselves.
Our Pick: Trinity Forest Adventure Park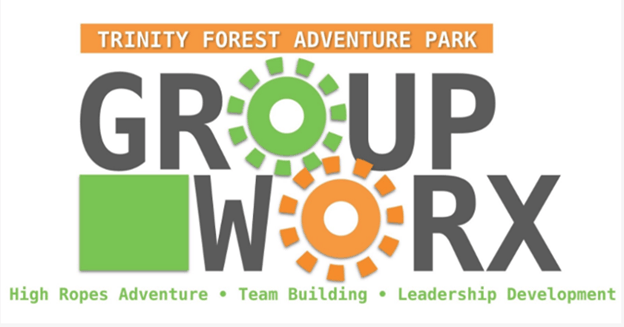 Location:
1800 Dowdy Ferry Rd, Dallas, TX 75217
Trinity Forest Adventure Park in Dallas offers outdoor team-building workshops that allow employees to learn something new as a group and about each other. In addition, their ropes courses foster team spirit and collaboration, as everyone needs to complete a series of games and physical tasks. 
Activities at the Trinity Forest Adventure Park also offer opportunities for natural leaders to emerge and enable your team to build trust and camaraderie.
7. Team Pedaling
Team Pedaling is a fun and unique way to build camaraderie among team members while also getting some exercise! 
Pedaling as a team is one of the most exciting team-building activities for small groups in Dallas. The activity requires teams of four or more people to pedal in sync on stationary bicycles. 
Still, you can rent several bicycles for larger groups –– up to 75 individuals.
Everyone must be perfectly synchronized to reach their destination, making it an excellent lesson in communication and cooperation.
Our Pick: Dallas Party Bikes
Location:
3909 Main St, Dallas, TX 75226
Dallas Party Bikes enables you and your colleagues a two-hour pub tour in Dallas' Deep Ellum district on a bike that can seat up to 15 people. 
The bike has an aux cord and speakers with fun led lights, so you can bring your own beverages onboard and jam out as you cruise the streets.
8. Virtual Game Show
Virtual game shows are a great way to get everyone involved in a fun and interactive activity. 
These online challenges involve trivia, puzzles, and other games that require teams to work together to win points and ultimately come out on top of their opponents. 
It's an easy way to boost morale while teaching valuable collaborative skills!
Our Pick: Team Building Hub
Playing an online game show from Team Building Hub is a fun and fast-paced activity that can accommodate between 10-150 players! 
The game is a live, hosted competition played virtually, but the unique platform allows players to see each other and the game dashboard simultaneously. 
Players don't have to be tech-savvy to participate, and the enthusiastic host ensures that everyone has a great time! 
Teams compete to rack points and collect badges to reach the top of the scoreboard! 
Have some prizes for the winners, like gift cards, to motivate them extra!
Tips For Planning A Successful Team Building Activity
To ensure your next team-building activity is successful, follow these straightforward steps.
Identify Your Timeline
To have a successful team-building event, you should give yourself as much time to prepare as possible. This will make the planning process more manageable and less stressful.
After you've determined your rough timeline, create a task list in Excel to plan your agenda in more detail. A task list will allow you to track when things need to be completed and delegate when necessary. 
You can also convert your Excel task list into a Gantt Chart for a more visual timeline. Here's how you can do that: 
Select your data and click "Insert" > "Chart" in Excel.

Under the Charts tab, choose the Gantt Chart option.

Click OK to insert your chart into the worksheet
Choose The Right Activity
Once you know your specific goals, it should be easy to develop activities that will help you achieve them. But unfortunately, this is where HR and employee engagement committees often have the most trouble.
Remember that your company's culture shouldn't be the primary focus when deciding how to improve employee morale. 
Instead, soliciting suggestions from your employees is the best way to design a team-building activity that is both original and fun. You can use an online survey or ask your team directly to gather information.
It's also important to select activities suitable for your group's size and the event's location. 
Consider other factors like age, physical abilities, and budget as well.
Inform Your Team About The Activity's Goal
The purpose of team-building exercises is to bring individuals closer by learning how to trust and rely on each other. This develops a productive work culture where employees feel part of something larger than themselves.
However, many employers unintentionally turn the collaborative experience into a competition by adding too much gamification. 
To prevent this from happening, HR managers should take these measures:
Clearly explain the objectives of the activity to all participants.

Make sure that everyone understands that the goal is to work together, not against each other.

Assign team roles and responsibilities in a fair and balanced manner.

Celebrate successes, regardless of who "wins" or "loses" the game.
Track The Results
Team-building isn't something that only happens once. If you want your team to continue building solid relationships, it's vital to make team-building a continuous commitment in your organization.
After taking part in a team-building activity, think about what went well and what didn't before planning your next event. 
That way, you can learn from past experiences and build upon them for an even better outcome next time!
Wrap Up
As an HR leader, part of your job is to bring people together and ensure they are cohesive. Team exercises allow employees to bond and remember their goals. 
By conducting these activities frequently, you can help maintain peace within the organization and assist with meeting company objectives.
With this list, you now have fun and unique team-building activities in Dallas, TX. 
Whether you choose a Succulent Planting Workshop or something that's more physically demanding, team-building activities are important for the success and development of your team!
Happy team building!
Located closer to Houston? Check out our Houston team-building activities article.