Administrative professionals day is the perfect opportunity to show appreciation for your workplace's hardworking administrative staff. Whether through a celebratory lunch break or a thoughtful gift, there are countless ways to honor the people who keep your office running smoothly. 
Keep reading to find our list of perfect gift ideas to make your administrative professionals feel valued and appreciated. From succulent planting to wellness activities, we've got you covered!
Healthy Minds, Happy Workplace: Engaging Health and Wellness Activities
Incorporating health and wellness activities into your administrative professionals' day celebration can be a great way to show your employees your appreciation while promoting a positive and healthy work environment. 
Here are some health and wellness activities that you can incorporate into your National Secretaries Week celebration:
Guided Meditation Session
A guided meditation session can help your administrative professional reduce stress and anxiety while promoting mindfulness and relaxation. 
By hiring a meditation instructor and providing a comfortable space for attendees to sit, you can create a calm and peaceful environment that helps office managers feel rejuvenated and refreshed.
Stress-Relieving Succulent Planting Station with Yoga Session
A succulent planting station will show administrative assistants that you appreciate their hard work and dedication while promoting team bonding and a positive and healthy work environment. 
In addition to being a fun and engaging activity, succulent planting, and gardening have been shown to have many stress-relieving and therapeutic benefits. Studies have shown that gardening can help reduce stress, improve mood and self-esteem, and promote relaxation and mindfulness. 
By incorporating a brief yoga session into the planting activity, you provide your administrative professional with a holistic and refreshing experience promoting physical and mental wellness.
Here's how you can organize a yoga and planting station:
Set up a yoga and planting station to create a calming and refreshing experience for your administrative staff.

Attendees can participate in a brief 5-minute yoga session led by a yoga instructor focusing on relaxation and mindfulness.

After the yoga session, attendees can move on to a

succulent planting

activity to create their unique plant arrangements.

Provide yoga mats and succulent planting materials for attendees during the activity.

Be sure to offer guidance and tips on creating attractive and healthy plant arrangements. Encourage attendees to get creative and personalize their planters with paint or other decorations.
Healthy Snack Station
Setting up a healthy snack station for admin professionals day is a great way to show your administrative staff that you value their well-being and want to support their healthy lifestyle choices. Here are some healthy snack options to include:
Fresh fruit, such as apples, bananas, and oranges

Raw vegetables, such as carrots, cucumber, and bell peppers

Hummus or other healthy dips for the vegetables

Nuts and seeds, such as almonds, cashews, and sunflower seeds

Whole-grain crackers or rice cakes

Granola or protein bars
Be sure to label each snack with nutritional information to help attendees make informed choices. You can also provide recipe cards or other resources encouraging healthy eating habits. 
Unforgettable Celebrations: Amazing Ideas for Administrative Professionals Day Activities under $30
You don't have to break the bank to create a meaningful and memorable experience in administrative staff week. There are plenty of budget-friendly activities that you can organize for under $30, all of which are sure to show your administrative staff that you value their hard work and dedication. 
Hosting a Celebratory Luncheon
A celebratory luncheon is a classic way to show appreciation for your administrative staff. Providing a delicious meal and a festive atmosphere can create a fun and memorable experience that your administrative professionals will appreciate.
Follow these tips to have a successful luncheon: 
Choose a location that is convenient and comfortable for your administrative staff. If your workplace has a break room or outdoor space, set up tables and decorations to create a festive atmosphere. Alternatively, you could book a local restaurant or catering service for a more formal event.

Consider dietary restrictions and preferences when choosing your menu. Offer various healthy and delicious options catering to different dietary needs. Remember to provide plenty of water and non-alcoholic beverages as well.

You may set up a photo booth with fun props and decorations or provide a game or trivia activity that promotes team bonding and friendly competition.

Show your appreciation by providing small gifts or prizes, like

succulent party favors

. You could provide personalized gifts or certificates of appreciation for each attendee or hold a raffle for larger prizes such as gift cards or technology gadgets.

Take some time during the event to recognize specific achievements and contributions and encourage others to share their positive experiences and feedback.
Set Up A Terrarium Building Workshop with Succulent Bar
If you're looking for a unique and engaging way to celebrate administrative professionals Day this year, why not consider hosting a virtual terrarium-building workshop? Not only is it a fun and creative activity, but it's also a great way to promote team bonding and wellness in the workplace.
To get started, you can plan out the following three simple steps:
Choose Your Package and Event Date:

Select a terrarium kit package that fits your budget and the number of attendees. Decide on a date and time that works best for your team.

Distribute the Kits:

Once you've received your terrarium kits, you can distribute them to your team members. They'll have everything they need to create a beautiful terrarium, including a glass container, succulent plants, potting soil, decorative rocks, and more.

Connect Online:

With your terrarium kits, your team can connect online to participate in a guided workshop via a virtual meeting software. A knowledgeable host can provide tips and insights on creating and caring for the terrarium, and participants can share their creations with one another.
By hosting a virtual terrarium building workshop, you can give your administrative staff a unique and enjoyable way to celebrate their hard work and dedication. 
Plus, it's a great opportunity to promote wellness and creativity in the workplace. Remember to take photos of your team's creations and share them on social media!
Organizing a Team-Building Activity like a Scavenger Hunt
Team-building activities can be a great way to foster camaraderie and build stronger relationships among your staff. A scavenger hunt is a low-cost, high-reward option that can be customized to fit your office space and the preferences of your administrative staff.
Show Your Appreciation: Creative Gift Ideas for Administrative Professionals Day Under $50
Here are some ideas for gifts under $50 that are sure to honor administrative professionals:
Custom Notebooks or Planners
Unique notebooks or planners are a great way to show your administrative staff that you value their organizational skills and attention to detail. By personalizing the notebooks or planners with their names or initials, you also show that you recognize and appreciate their contributions to the team. 
You can even take it further by adding office supplies that match the notebook's design or color scheme, such as a floral pattern or bold geometric shapes.
Plants or Succulents for Their Desk
Plants and potted succulents are popular for office décor, as they can help purify the air and create a calming atmosphere. By gifting a plant or succulent for their desk, you also give your administrative staff a tangible reminder of your appreciation.
Be sure to choose a low-maintenance or succulent that can thrive indoors, such as a snake plant or aloe vera. 
You can also provide a decorative planter that matches their workspace décor, such as a geometric ceramic pot or a natural wood planter.
Gift Certificates to Local Coffee Shops or Other Businesses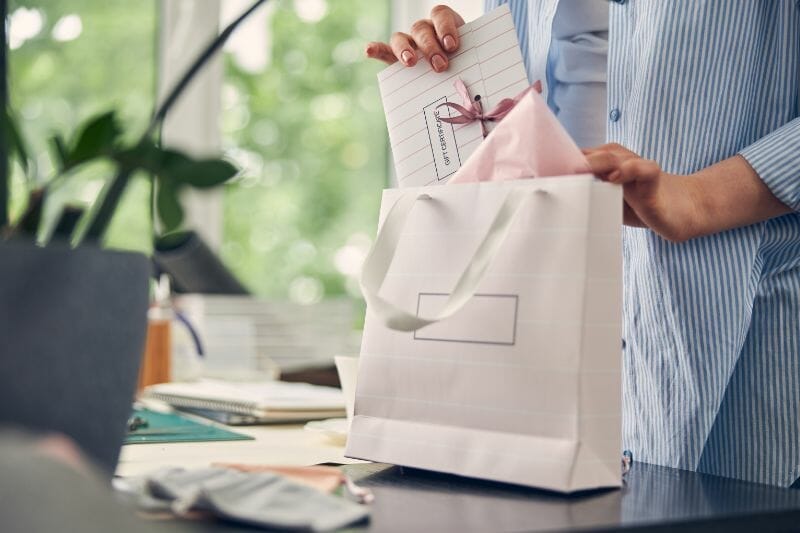 Gift certificates are flexible and practical gift options that can be customized to suit each administrative professional's interests. By choosing a local coffee shop or other business, you also support the community and show that you care about the local economy. 
Writing a personalized note with the gift certificate will add a personal touch and show gratitude.
Spruce Up Your Celebration: Unique and Memorable Arrangements for National Secretaries Week
Whether you're looking to promote team bonding or create a fun and festive atmosphere, there are countless ways to customize your celebration to better suit the needs and interests of your administrative staff. Here are some ideas for arrangements that can take your administrative professionals day celebration to the next level:
Dessert Bar
Set up a dessert bar where attendees can indulge in various delicious treats. You can even take it a step further by decorating the dessert bar with festive decorations, such as balloons or banners, to make it an extra memorable experience.
Appreciation Wall
An "Appreciation Wall" is a low-cost and high-reward way to foster positivity and gratitude in the workplace. 
Setting up a wall where attendees can leave notes of appreciation for their coworkers encourages a culture of recognition and support. Provide pens, sticky notes, and other supplies for attendees. Also, encourage attendees to share specific examples of how their coworkers have helped or positively impacted their workday.
Award Ceremony
An award ceremony is a fun and exciting way to recognize your administrative staff's achievements while promoting friendly competition and team bonding. By choosing award categories that align with your workplace values, such as "Most Organized Desk" or "Best Multi-Tasker," you can show your administrative staff that you recognize and appreciate their hard work and dedication.
Final Words
Administrative Professionals Day is a significant opportunity to show appreciation for your workplace's hardworking administrative staff. Organizing meaningful and memorable activities, gifts, and arrangements can create a positive and engaging work environment that promotes employee morale and productivity.
If you're looking for even more ideas and inspiration, check out our collection page for Administrative Professionals Day gifts. We offer the most meaningful gifts –– from succulent boxes, to kits –– that delight your administrative staff. Each gift is carefully curated and designed to help you make the most out of this special day.