Thanksgiving resident events are integral to community building, offering a unique opportunity to encourage residents to interact and deepen bonds. A well-orchestrated event can transform a residential community into a tight-knit neighborhood. 
With the help of Succulent Bar's innovative activities, ranging from the elegant Petal Bar Packages to the educational and therapeutic succulent planting workshops, your Thanksgiving event will not only serve its communal purpose but also become a memorable occasion of fun and learning. 
Curious about how to incorporate these unforgettable activities? Dive in to find out how Succulent Bar can add a touch of creativity and novelty to your Thanksgiving resident event.
Understanding Thanksgiving Resident Retention Ideas or Events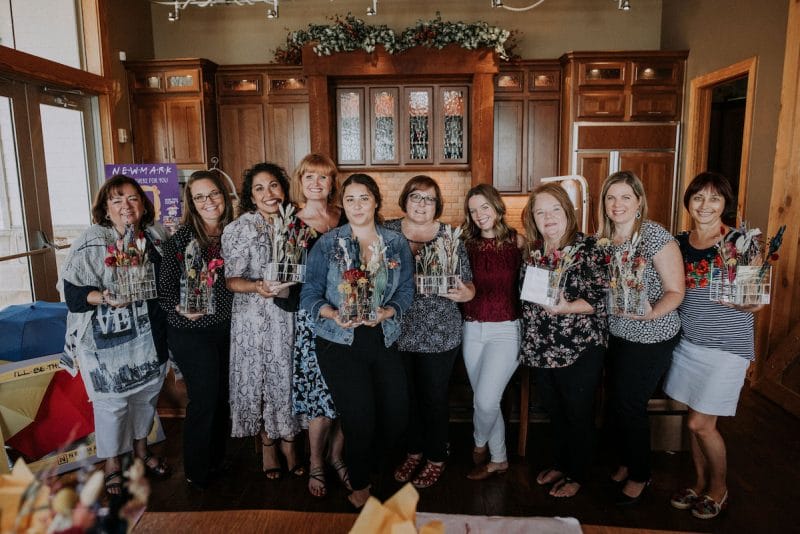 Thanksgiving resident events are more than festive gatherings, they serve as catalysts for unity, expressions of gratitude, and building blocks for solid connections within residential communities. 
Seamlessly interweaving the essence of the holiday, these events draw apartment residents into a shared celebration, amplifying the sense of community.
Crafted with a laser focus on community interaction, these resident events play a crucial role in fostering bonding among the community members. They encourage connection in several impactful ways:
Shared Experiences:

Participating in

communal activities

allows residents to find common ground, fostering mutual understanding and creating shared memories. These experiences, unique to each event, lay the foundation for a connected community.

Informal Interactions:

Away from the regular constraints of daily life, these events provide a casual and relaxed setting for residents to interact. This unstructured time allows for deeper and more personal connections to form, giving residents the essence of communal living.

Community Spirit:

The act of working together to celebrate a festive occasion or building a collaborative thanksgiving tree cultivates a palpable sense of belonging and unity among residents. It's this spirit that turns a residential area into a thriving community.
Spicing up Thanksgiving with Succulent Bar's Residents Gratitude Activities
Let's now shift our focus to an innovative solution that promises to infuse freshness and excitement into your resident events. Succulent Bar offers these activities for engaging your residents and making your Thanksgiving event a standout experience.
Petal Bar Packages for an Elegant Touch
Succulent Bar's Petal Bar Packages introduce a delightful blend of elegance and creativity. Launched in 2019, Petal Bar specializes in dried floral arrangements, providing a unique and sophisticated twist to your event. 
The packages include flower-arranging workshops, custom favors, and centerpieces – perfect for a Thanksgiving event that aims to add a touch of luxury and femininity. 
Succulent Virtual Events for Remote Participation
Even when physical gatherings are not possible, the spirit of Thanksgiving need not be dampened. Succulent Bar's virtual events are a great solution to engage residents, no matter where they are. 
Succulent virtual events can be customized to fit the needs of your group, with succulent kits shipped nationwide to either your office or directly to the recipient's doorstep. 
This way, residents can participate individually or collectively, ensuring that everyone can participate in the celebration.
Succulent Planting Workshops for Learning and Relaxation
A proven stress reliever, planting can be a relaxing and therapeutic activity. Succulent Bar's in-person and virtual succulent planting workshops promote relaxation and learning among residents. 
Guided by a knowledgeable specialist, residents will learn to create succulent arrangements like pros. 
Whether you have plant enthusiasts or beginners, these Succulent workshops are designed to suit all levels of knowledge and skill.
How to Incorporate Succulent Bar's Activities into Your Thanksgiving Resident Events
Infusing your Thanksgiving resident event with Succulent Bar's offerings undoubtedly make for an engaging and memorable gathering. Let's discuss how you can seamlessly integrate these thanksgiving activities into your event and offer some tips for smooth execution.
Kick-start with a Petal Bar Package Workshop
Start your event on a creative note with a Petal Bar Package workshop. Here, residents can come together to create beautiful dried floral arrangements. You can use these masterpieces as centerpieces or give them away as memorable tokens. 
To ensure a smooth execution:
Inform residents in advance about the workshop to build anticipation and excitement.

Arrange the seating such that it encourages interaction and conversation among the residents.

Have the necessary tools and materials ready beforehand to avoid any delays or interruptions.
Bridge Distances with a Succulent Virtual Event
A Succulent Bar Virtual Holiday Event is an excellent inclusion if some residents can't attend in person. 
Here are a few pointers to help you plan:
Coordinate with Succulent Bar to ensure the succulent kits are shipped to the remote participants.

Provide clear instructions on how to join the virtual event and offer technical support if needed.

Consider a simultaneous video call to allow remote participants to connect with the on-site residents, fostering a sense of inclusivity.
Engage and Educate with a Succulent Planting Workshop
A succulent planting workshop can serve as the main event, allowing residents to engage in a calming and educational activity. 
To make this a success:
Set up a designated space for the workshop that is large enough to accommodate all participants comfortably.

Ensure the Succulent Bar Specialist is available to guide the residents and answer any plant-related queries.

Encourage participants to share their creations on social media, amplifying the sense of community spirit.
Incorporating Novelty in Your Resident Event Idea
As we delve further into the importance of unique and creative resident event ideas, let's look at the role of uniqueness in event planning and its impact on resident participation and satisfaction.
The Significance of Uniqueness and Creativity in Event Planning
Uniqueness and creativity in event planning are more than just buzzwords; they are vital to a successful event. 
For one, unique events stand out, capture interest, and create memorable resident experiences. Additionally, they stimulate conversation, inspire engagement, and foster a sense of anticipation for future events.
The Impact of Novelty on Resident Participation and Satisfaction
When residents and property managers see an effort to create innovative and diverse events, they are more likely to participate and engage with the community. 
Furthermore, a positive event experience increases resident satisfaction, creating a more connected and vibrant community.
Final Thoughts: Elevate Your Thanksgiving Resident Event
Thanksgiving resident events are more than just a social gathering for the property management team and residents; they're a chance to cultivate a strong sense of community, strengthen bonds, and create lasting memories in your apartment community. 
Integrating activities that gather residents, like those offered by Succulent Bar Store, can significantly enhance the experience, making your event a standout occasion that encourages residents to interact and engage in novel ways.
So, start planning today and transform your Thanksgiving resident event into a delightful community-building experience that your residents will look forward to every year.